Astra WordPress Theme Review 2023 (Astra Pro V/S Astra Free)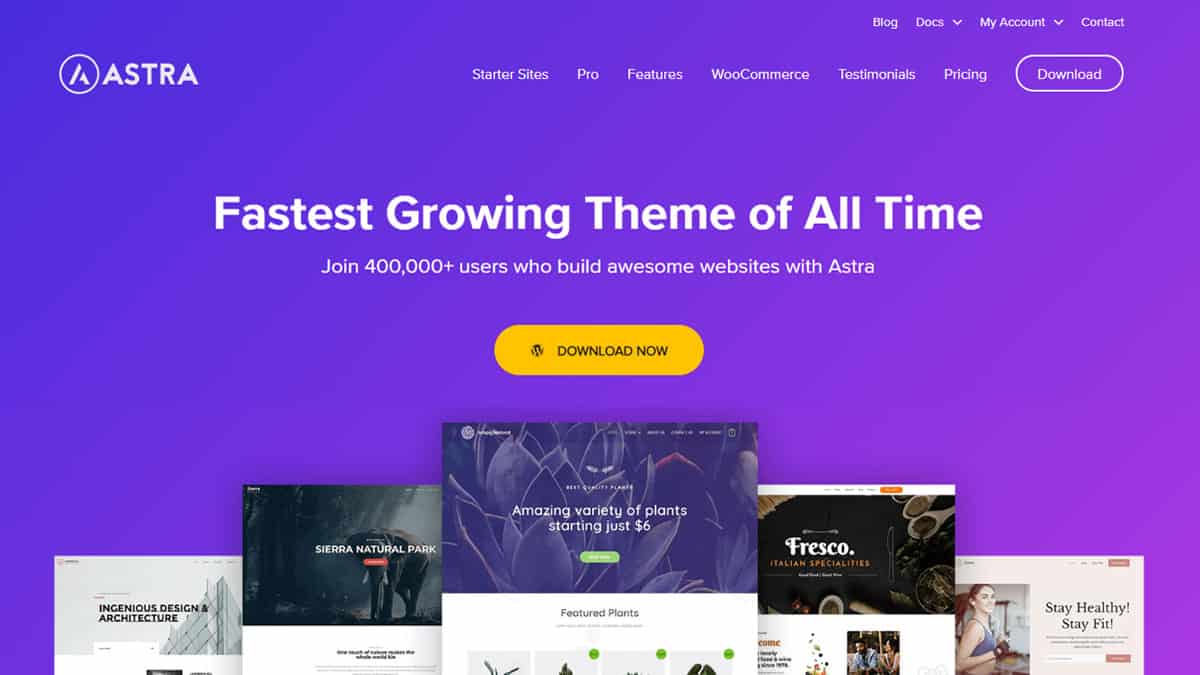 Astra is a powerful multipurpose WordPress Theme. Here's my Astra WordPress Theme review, also we will see Astra Pro VS Astra Free price feature comparison.
You want a WordPress theme that gives you design flexibility so that you can design your website or blog, the way you want and also you want a theme that makes and helps your WordPress website load faster? In the past, it was very difficult to find such a theme that offers both, you needed to compromise with either the things, but it's not the case now. We have got some amazing WordPress themes today that offers you both.
Astra is one of the most popular and best WordPress themes available today. With Astra, you get the free and the pro version as well. Even the starter pro version comes with an option to use the theme on unlimited websites.
Astra WordPress Theme Review
Astra is the product from Brainstorm Force team who is also the brain behind popular WordPress products like Ultimate Add-ons, Convert Pro, Schema Pro, WP Portfolio, and dozens of other free and premium plugins on WordPress.
Multipurpose WordPress Theme
Astra is a multipurpose WordPress theme, which means you can easily make any type of website with this theme. Unlike many other themes that are designed for some specific purpose or for a specific niche, Astra is designed in such a way that you can create a fully functional website and blog for any niche or industry.
Flexible & Easy Customizable
It's a very flexible and easily customizable theme, you can customize every aspect of your website or blog from the WordPress customizer and theme option given. And, the most important thing is that all the customizations are done live so that you can see the changes while you are customizing your WordPress site.
Works Well With Page Builders
Astra is designed to work with all the popular page builders today which makes it even easier to create your website or blog with just drag and drop. As documented, Astra supports and works well with the page builders like Elementor, Beaver Builder and also with the WordPress default Gutenberg (Also known as Block editor) page builder. Now, it's your choice, which page builder you want t use to build your site.
Light Weight
Even having tons of features and customization options, Astra is one of the most light-weight themes available today. Again as documented, Astra weighs just 50KB out of the box (coding part), though this number does not make a much of any sense and it depends on how you use and what other plugins you are using with your site. The bottom line is it's a super-fast theme that makes your WordPress site loads real quick.
SEO Friendly
The irony is, almost all the theme developers say that their theme is SEO friendly but only a few of them sands clear on this ground. Astra is one of those themes that have all the features and follows all the modern SEO standards that make it truly SEO friendly theme. WordPress itself is very SEO friendly and Astra compliments it really well.
Astra Theme is made for speed. Even having tons of features and functionality, Astra is blazing fast. And, we all know page speed is one of the important SEO ranking factors. Further, Astra adds important schema markup to your pages by default, which simply makes your pages and posts stand out in the search results. You can extend the schema features with another popular plugin Schema Pro from the same team.
Pre-Built Starter Sites
Astra has got many pre-built starter sites, which you can easily import and create the pages. It's one of the really cool features that I like most about the Astra theme. Even if you are not a designer and don't know where to start with creating the pages of your site, pre-built demo sites come really handy. You just need to import the pre-made template that you like and make changes to the content. Having this feature, I have personally able to create a page within less than 5 minute.
WooCommerce Integration
WooCommerce is the most popular ECommerce plugin, which lets you create a fully functional e-store. Astra is fully compatible with the WooCommerce plugin. Having WooCommerce plugin along with the Astra theme, you can easily create and make your beautiful E-Commerce store up and running in much lesser time.
Astra Pro VS Free Comparison
Astra has so much to offer in the free version, which we have just seen above. You can install the Astra theme for free from the WordPress Theme repository. They have also got the pro version of the theme, which has even got more features and more functionalities. Here are some of the things that you get with Astra Pro other than those that are offered in the free version of the theme.
More Design Options
Astra Pro has got more design options as compared with the free version of the same. With Astra Pro, you get the features and design options like – sticky headers, mobile-specific headers, mega menu option and a lot more.
More Layout Options
With the free version of the Astra Theme, you only get the default layout but with Astra Pro, you get different layouts such as boxed layout, full-width layout, fluid layout and much more. Also, you get many other options that you can use to customize the layout of your website pages. Also, you can give different layouts to different pages.
More Typography, Colors & Backgrounds
Astra Pro gives you more typography options where you can choose from hundreds of fonts and customize your website content. Also, you get more colors and background options to design the different sections of your website. Though Astra Free might be sufficient for many users if you are not someone who likes to design your pages specifically, Astra Pro gives you more flexibility in terms of customization.
More WooCommerce Options
Even Astra Free version is fully compatible with the WooCommerce plugin, the pro version gives you more options both in terms of design and functionality. If you are making a core eCommerce website and if you are really serious about your eCommerce business and you are planning to use Astra, I would suggest you, to use the Pro version.
Modular Design & Functionality
The biggest problem with the themes having so many features is that even if you do not use some of the features, the theme files containing those features still loads on the website. This makes your website heavy and takes a hell lots of time to load but that's not the case with the Astra Pro. This super flexible theme is built with a modular design which means you can completely turn off some of the features and functionality that you are not using n your website to make your site even more light-weight and fast.
Hooks & Filters
Going a step further, Astra Pro offers many hooks and filters, which is very useful for the developers. In case if you want to add some codes in the specific part of your website to further extend the functionality, you can easily do so by just using the built-in hooks and filters, you won't need to touch the core files and coding of the theme.
Price & Support
Astra Pro has got three pricing plans – Astra Pro, Mini Agency Bundle and Agency Bundle. With any of these licenses, you can use the theme on unlimited sites. So, if you have got multiple websites or if you create the websites for your clients, you do not need to buy additional licenses, you can use the theme on all your websites.
Agency Bundles are actually bundled with some of the popular and useful plugins from the same team. These are also the premium plugins that you can use to further extend the functionality of your theme. Though it's named as "Agency"; but even if you want to use these plugins on your website, you can choose the agency plans. Also, you get more starter sites in the mini agency and agency plans.
With Annual plans, you get the one-to-one support and updates for one year, after that, you can renew the licenses on a discounted pricing. Also, you get the option where you can buy the licenses for a lifetime, which means you will get lifetime updates as well as one-to-one support till the time you or your client use the theme as well as bundled plugins.
General FAQs About Astra WordPress Theme
Here are some of the general and frequently asked questions about the Astra WordPress Theme. I thought of taking these questions here so that you can make the informed decision if you are planning to go with Astra.
What type of website can I make with the Astra Theme?
Literally saying, you can create any type of website using this super powerful and flexible WordPress Theme. Whether you are creating your personal blog or a portfolio website or if you are creating a fully functional online store, you can create all of these with Astra.
Astra Pro or Free, which one should I choose for my website?
Astra free version is also good and one of the top WordPress themes in the WordPress repository. As of now, it has got 4+ million active installations with 2000+ positive reviews. Astra Pro has got even more features and functionality.
Does Elementor Pro or Beaver Builder Pro comes bundled with Astra Pro?
No, you won't get the pro version of these plugins bundled with the Astra Pro theme, as these plugins are from the other developers. You get the Addons and starter sites for these plugins which you can use with them. Also, most of the addons designed for these plugins work well even with the free version of these plugins.
Can I use the default WordPress editor with Astra Theme?
Yes, of course. You can use the default WordPress block editor (Gutenberg) with the Astra themes to create your website pages. Astra has also got add-ons as well as the pre-built starter sites even for the Gutenberg editor, which you can easily use to design your pages beautifully. You have got all the options open with this theme.
What happens If I do not renew the license after a year?
You can still use the theme on unlimited websites even if you choose not to renew the license after one year, though you won't get the updates and support after that; but wor site and the theme still work as it was working. Also, you get the discounts on the renewals so I don't see any reason not to renew the license.
Astra Theme Review: Do I Recommend Astra (Pro)?
Yes (Undoubtedly). Astra is one of the most popular, reliable and faster themes for WordPress today. You won't go wrong anywhere with this theme both in terms of design flexibility and SEO. Also, it's a very user-friendly theme suitable for all types of users even beginners can use this with their choice of page builders to create their website.
Final Verdict: If you want a fast and reliable theme to create almost any type of website, I highly recommend Astra (Pro). I have tried and used many WordPress themes from the last many years but this is the theme that I found the best. I can definitely go with the Astra Pro, you won't be disappointed using this theme.