A2 Hosting Coupons & Deals, 2023 (51% Off)
A2 Hosting Coupons & Deals (51% Off)
Unlimited Disk Space & Bandwidth, 1-CLICK Script Installs, Free SSD, Free SSL, 99.9% Uptime Commitment, Guru Crew Support & Anytime Money Back Guarantee.
Are you looking for a fastest and reliable web host with excellent customer support for your website or blog hosting? A2 Hosting is a web host that claims 20X faster speed with 99.9% uptime commitment & excellent Guru Crew Support.
If you want to know how well they stand to their claims of 20X faster page load (speed) and 99.9% uptime comitment, do check my full A2 Hosting Review (2023). Hint: Very Fast & Reliable.
In this post, I am going to share you the A2 Hosting Coupons & Deals. A2 Hosting is offering up 51% Off on different web hosting plans. So if you are planning to create a website or starting a blog and looking for a perfect home for your website or blog, then this would be a steal deal for you.
A2 Hosting Coupons & Deals 2023
Flat 51% Off on ALL shared hosting plans (Including WordPress Hosting). Pricing starts at $3.92 Per Month (Rs. 280.92 per Month For Indian Users). Which includes Free SSL certificate, SSD only servers, data backups with other common things like unlimited disk space and unlimited bandwidth.
A2 Hosting offer three standard plans in shared hosting: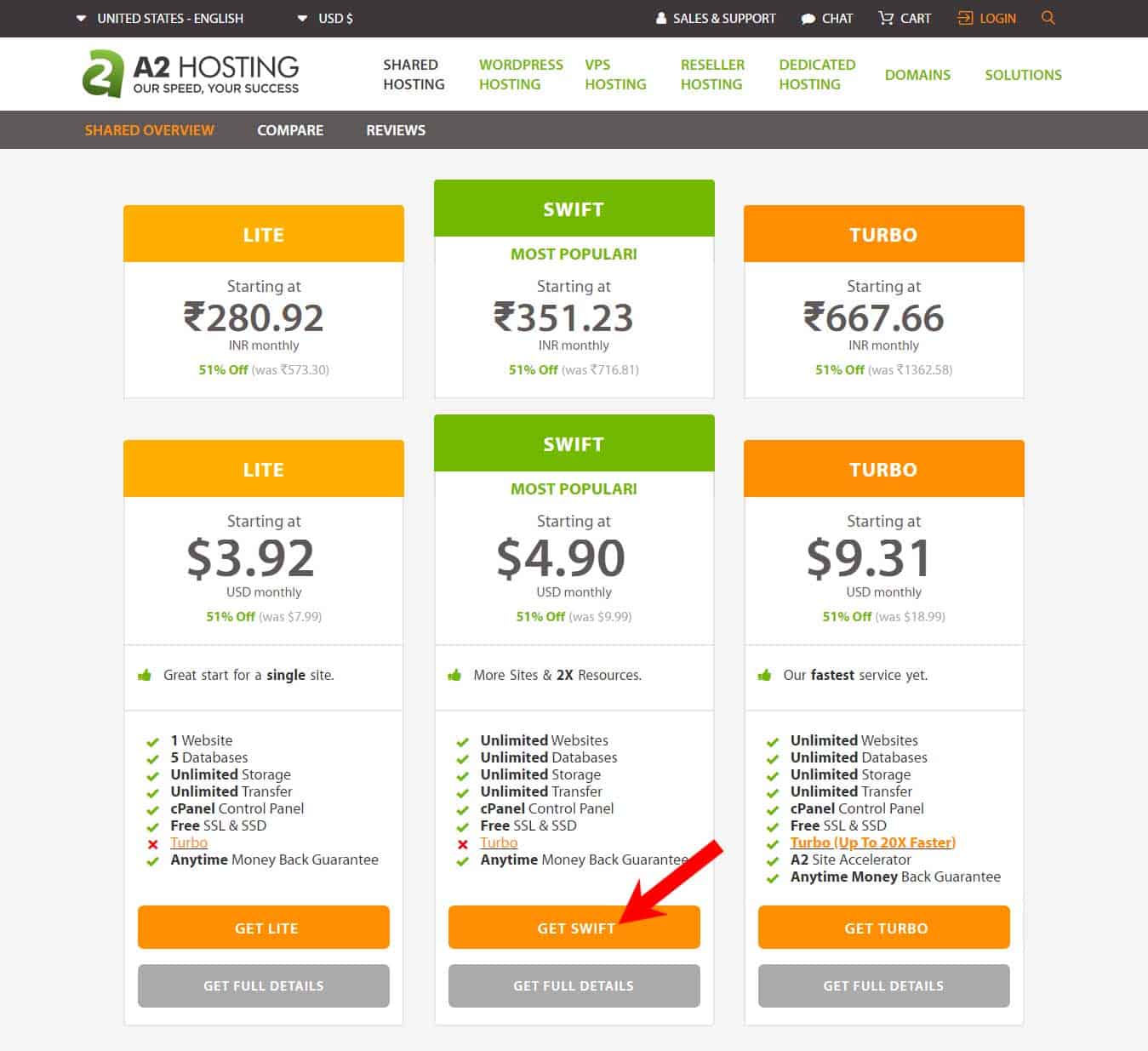 1. Lite Plan
The Lite plan is the cheapest plan A2 Hosting offers. Thus this is the most basic plan at A2 Hosting. This plan is ideal if you are just starting your blog or creating a new business website. This plan is good for all type of website that does not expect a lot of traffic to their website (although there is no restriction to bandwidth use).
Like many other web hosts, the lite plan with A2 Hosting also have some limitations. With this plan, you can host one single website and 5 sub-domains. The storage and bandwidth are not restricted but is subject to their Fair Usage Policy. The MySQL databases are also limited to 5 (is sufficient for a single website). You can also create up to 25 cPanel email ids for your business.
2. Swift Plan
The Swift plan is ideal for Bloggers and Small business owners who want to host multiple websites. Here you get 2X resources as compared with the Lite plan. This plan is powered with 2 CPU cores clocked at 2.1 GHz and provides 1 GB of RAM.
Apart from the RAM and Inodes, there is no restriction on storage and bandwidth as such (except the Turbo Speed). Of course, fair usage limits still apply. Unlike the Lite plan, Swift plan also offers server rewind backups. So all in all, the swift plan is definitely a better choice if you are planning to host multiple website or blog.
3. Turbo Plan
The Turbo plan is the fastest shared hosting plan by A2 Hosting. This plan is recommended for relatively high traffic websites or blogs, E-commerce websites and other websites for which page load times are a critical factor.
The Turbo plan can handle medium to high traffic websites as it provides 2 GB of RAM which is double than what is available with the swift plan. The Turbo plan has its own caching system which can make your website load very fast.
Note: The Lite Plan which we tested still performs much better (much, much faster) than any other web host in this segment. If you want even more speed sign up with the turbo plan (few users per server, more resources, and well optimized for speed).
How To Sign Up With A2 Hosting
As this is a limited time offer, you should grab this A2 Hosting coupons & deals as soon as possible. If you want to avail this offer and if you want to sign up with A2 hosting, click on the link below and follow the steps given.
Next: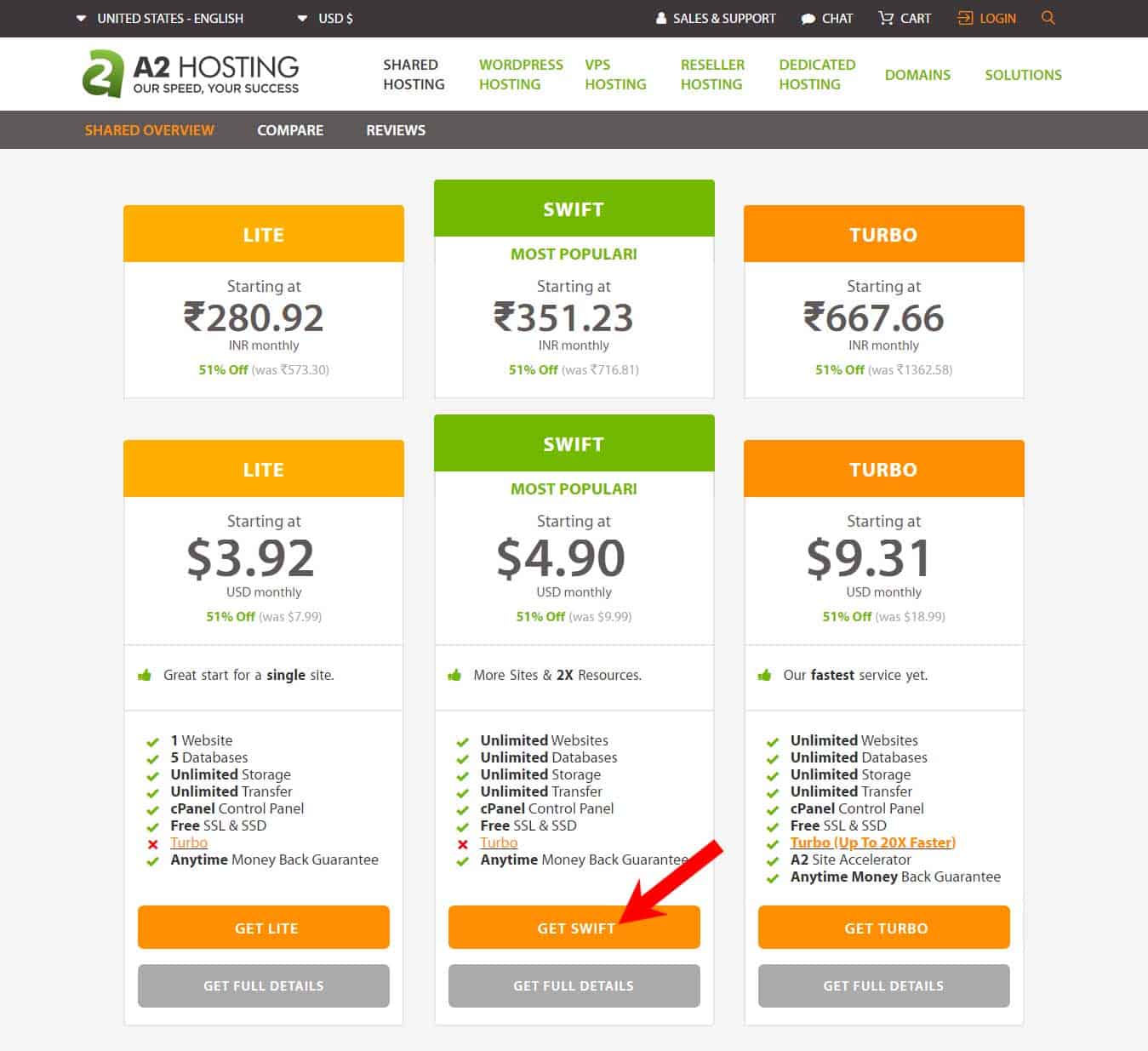 I recommend the SWIFT plan (the middle one), where you can host unlimited websites and you get 2X resources as well.
In the next step, click on "I will use my existing domain and update my nameservers " and enter your domain name and click next.
In the check out page, you can choose the billing cycle (for maximum discount benefits go for 36 months plan) and also you can choose the server location (choose the one near to you and your customer). You can leave all other offerings unchecked.
Finally review your order summary and (continue) proceed to checkout.
I hope this A2 Hosting Coupons & Deals helps you in getting a better discount on web hosting. I keep bringing many other deals and discounts on products or services related to web or blogging, do check all deals here. If you've liked this A2 Hosting coupon and deal, please spread the word (share on your social media networks) with your friends who are looking for some amazing deals on web hosting.