A2 Hosting Review 2023, Pros & Cons, Are They Really Faster?
Are you looking for fast and reliable web hosting? A2 Hosting claims to offer up to 20X faster web hosting with 99.9% Uptime Guarantee and a lot more. So, I decided to put their big claims to the test, let's see the result.
In this A2 Hosting Review, I will talk everything about A2 Hosting, their pros, and cons, how fairly they stand to their big claims, their pricing, plans and much more. So that you can make the right decision.
If you are new into the online space, A2 Hosting might be a new name for you. It was the same case with me a few years back. Yes, they were not as "Internet Famous" as BlueHost or HostGator (and you know the reason "Marketing"). But today they are fairly competing with these big monsters in the web hosting space.
Quick Overview Of A2 Hosting (USPs)
A2 Hosting offers Unlimited Disk Space, Unlimited Bandwidth, Free SSL, 1-CLICK Script Installs, Free Solid State Drives, 99.9% Uptime Commitment, 24/7/365 Guru Crew Support & Anytime Money Back Guarantee.
A2 Hosting has been around in the web hosting business since 2001, formerly known as "Iniquinet". Later when the business started growing they re-branded the company name as "A2 Hosting". They have four data centers in USA-Michigan, USA-Arizona, Europe-Amsterdam, Asia-Singapore. So you get the option to choose a server located close to you as well as your customers, to make your site open even faster.
They claim 99.9% uptime, 20X faster web hosting and Guru Crew Support. So, is this just a marketing gimmick or they really provide the web hosting with amazing uptime and excellent support. As for now, it's just sounding too good to be true. Keep reading my A2 Hosting review till the end, to find out the really surprising result.
A2 Hosting Review 2023
Here I will put their big claims to test and give my honest review about A2 Hosting. I will try my best to cover everything that matters most to you when selecting your ideal web host. So, let's start the A2 Hosting review point by point.
Performance: Speed & Uptime (Insanely Fast)
One of the most important things we consider while choosing a web host is speed and uptime. No matter what kind of website or blog you have or how much traffic you have, you will want to have your website available all the time and your website should load as fast as possible. We all know, with every one-second delay in website loading may cause you up to 20% loss in website traffic as well as to your business.
That is exactly what A2 Hosting claims to offer. They claim 20X faster speed and 99.9% uptime. So, is this really true or just a marketing gimmick?
The answer is: They are extremely fast, their load time is almost INSTANT.
In our testing, A2 Hosting page load time came in with an average of 376ms (the highest of every web host (shared hosting) we have used and tested and almost 50+ percent faster than the industry average i.e. 890ms. We got an average of 99.95% uptime in our testing (in fact with one of our website hosted with A2 Hosting, we are getting 100% uptime for the last six months.
So, how do they do that?
One of the way A2 Hosting ensure that uptime and speed are maximized by taking extra cautions to limit the number of websites on hosting servers. This ensures smooth performance even if there is a spike in traffic or additional resource requirement. Further, this is enhanced by using caching technology, which stores the information in users browsers. So, they don't have to pull information from the server every time they visit your website an thus the website loads faster.
Website performance (uptime) and speed are their biggest USPs and that's what they market themselves. They further go a step ahead and only uses SSDs (Complete SSD Solution – Your Files, OS & Database) and turbo servers (up to 20x faster) to maintain extremely high page load speeds at all times.
Security & Backup
Second thing, which is very important in choosing a web host is website security. Nobody likes their website getting hacked or anything bad happening to their website or blog. Also, things like "Automatic Website Backup" is really important, in case if anything goes wrong with your website, you can easily restore if you have the backup.
You will get all these thing with A2 Hosting. They offer server rewind backup facility, which allows you to recover data from (automatic) saved account backup snapshots (Although this feature is not available in the Lite Plan).
When it comes to security, A2 Hosting takes extra measures. One of the tools they have is called "HackScan" which is part of their Perpetual Security initiative, which offers a dual web hosting firewall, virus scanning, security monitoring, and brute force defense mechanism. You don't have to worry about all these things, everything works automatically and takes care of your website security in the background.
In addition, A2 Hosting offers a security solution called "Patchman" which is a multi-functional security tool. The tool auto-detects the outdated software and bugs and helps you patch them, really works great with Drupal, WordPress, and Joomla.
Server Locations (Data Centers)
Another reason for the extraordinary performance of websites with A2 Hosting is that their data centers are spread across multiple continents. A2 Hosting has data centers located in USA-Michigan, USA-Arizona, Europe-Amsterdam, Asia-Singapore. Thus with A2 Hosting, you get an option to choose the server location close to you as well as your customers. This further enhances the speed and performance of your website.
Since all these servers are exclusively owned by A2 Hosting and being monitored round the clock, you can rely on their security.
Customer Support (Quick & Efficient)
Faster load time, impressive uptime and excellent security are nice. But what about the customer support (really matters when choosing a web hosting).
A2 Hosting excels here as well with their friendly, helpful, support. They're available 24/7/365 through email, chat, phone or ticket support system. That's the reason they have been given A+ rating by BBB (the highest possible rating). That's really impressive considering they've been doing this for 15+ years already.
Every time we contacted them (phone) for support, we got the immediate response (although on live chat, the wait time was bit high during the peak time). The support team at A2 Hosting is really knowledgeable, all of our queries got resolved in just a few minutes and while being online with them only.
Money-Back Guarantee (Life Time)
I have personally seen companies offering 30 days or 60 days money-back guarantee. The fact is, you start getting the problems after the given money back time period. As in most of the cases, if you are creating a new website or starting a new blog, the setup may take that much time and you got stuck after that.
A2 Hosting stands behind their product, offering any time (lifetime) money-back guarantee (prorated refund of unused services) even after 30 days of a full money-back guarantee. Also, they refund (service credits) if there is any unscheduled downtime of your website for more than 0.1% of the total time per month. Having this kind of refund policy backs them in terms of overall reliability.
Free SSL, Free CDN, Free Site Migration
A2 Hosting offers free SSL via Let's Encrypt (good for normal company websites or personal blogs). Your website will run on HTTPS, making it more secure and safe for your website visitors. SSL is good for SEO too (Google prefers secure sites) and you won't see that annoying "not secure" in the URL bar in Chrome Browser.
A2 Hosting also offers free Cloudflare CDN, which further improves website speed, adds a layer of enhanced security and improves the overall uptime.
The cherry on the cake, A2 Hosting will help you migrate your website from the current web server. Moving a site would be really difficult if you are not that tech-savvy and it may take lots of time if you have a large website with lots of pages and images. A2 Hosting provides this for FREE (many big monsters charge big bucks for this privilege ).
Control Panel (CMS Compatibility)
A2 Hosting is best suited to both, the experienced as well as the newbie webmaster. They offer the industry-standard control panel i.e. cPanel. As I have used many web hosting services, I have seen companies (For Ex. GoDaddy and many others) providing the customized version of cPanel. Which is not so familiar and makes it really difficult to navigate through all the elements to manage the basic stuff.
On the other hand, standard cPanel (A2 Hosting Provides) is extremely easy to use, even for first-time users, and you can easily navigate through all the elements and you can easily find the things you are looking for.
You also get the famous Softculous application, with which you get the famous 1-click-install option. You can install WordPress or any other CMS of your choice with just a few clicks. Whether you are just installing WordPress or a fully functional e-commerce store (PrestaShop, Magenta ) this tool comes really handy and does the job efficiently. You can get your website ready in just a few minutes without a single line of coding.

A2 Hosting is compatible with all the popular CMS available today. In fact, your A2 account will come with the A2 Optimized WordPress plugin pre-installed if you choose the Turbo package. You can use this awesome plugin even if you are in any other plan (you need to install it from WordPress admin).

Developer Friendly (Features)
A2 Hosting provides a lot of developer features as well. So, if you are a programmer and love coding, you will enjoy the kind of support that A2 Hosting offers for various programming languages or tools.
I have seen many hosting companies still using the older version of the software, be it cPanel, PHP or database (MySQL). But it's not the case with A2 Hosting. Here your account will always be loaded with the current (most recent and stable) versions of the most popular developer software.
Green Web Hosting (Environment Friendly)
Since 2007, A2 Hosting has partnered with Carbonfund.org to support environment and battle climate change. They do lots of things in this regard. Apart from other things, they use complete SSD servers which are more energy efficient as compared to HDD. They also recycle older servers rather than throwing them out, plant trees, and reduce trash by using coffee mugs instead of disposables.
If caring for the environment is something you are passionate about, you can also contribute to the environment by just having an A2 Hosting account.
Some Cons
By now my affection with A2 Hosting can easily be seen. But no review will ever be completed without talking about cons, same goes for this A2 Hosting review. As they say "no one is 100% perfect", here are some flaws with A2 Hosting.
Bit Expensive
As they say "all good things come with a price tag" and "you get what you pay for". This seems true with A2 Hosting as well.
We find A2 Hosting a bit more expensive than the average web hosts that offer similar stuff in the same segment. Like many other web hosts (almost all), they also employ a common procedure of providing the lowest possible price if you sign up for a longer-term. Having any-time money-back guarantee, it shouldn't be a problem.
Limitations With Cheapest Plan
This is a bit common with many of the web hosts, the cheapest plan always have some limitations. In the cheapest plan with A2 Hosting, you can host a single website and there is a database limitation as well up to 5 databases.
Also, the TURBO feature is not available in the cheaper plans. But in our testing, even the basic plan (the cheapest one) is still much faster than most other web hosts. If you want the turbo fast speed, you will need to sign up with the turbo plan.
A2 Hosting Plans & Pricing
I hope the A2 Hosting review given above clears all your queries about A2 Hosting. Now let's talk about their pricing and plans. A2 Hosting offers Shared Hosting (WordPress Hosting), VPS Hosting, Dedicated Hosting, and Reseller Hosting.
Shared Hosting: They have three main shared hosting plans: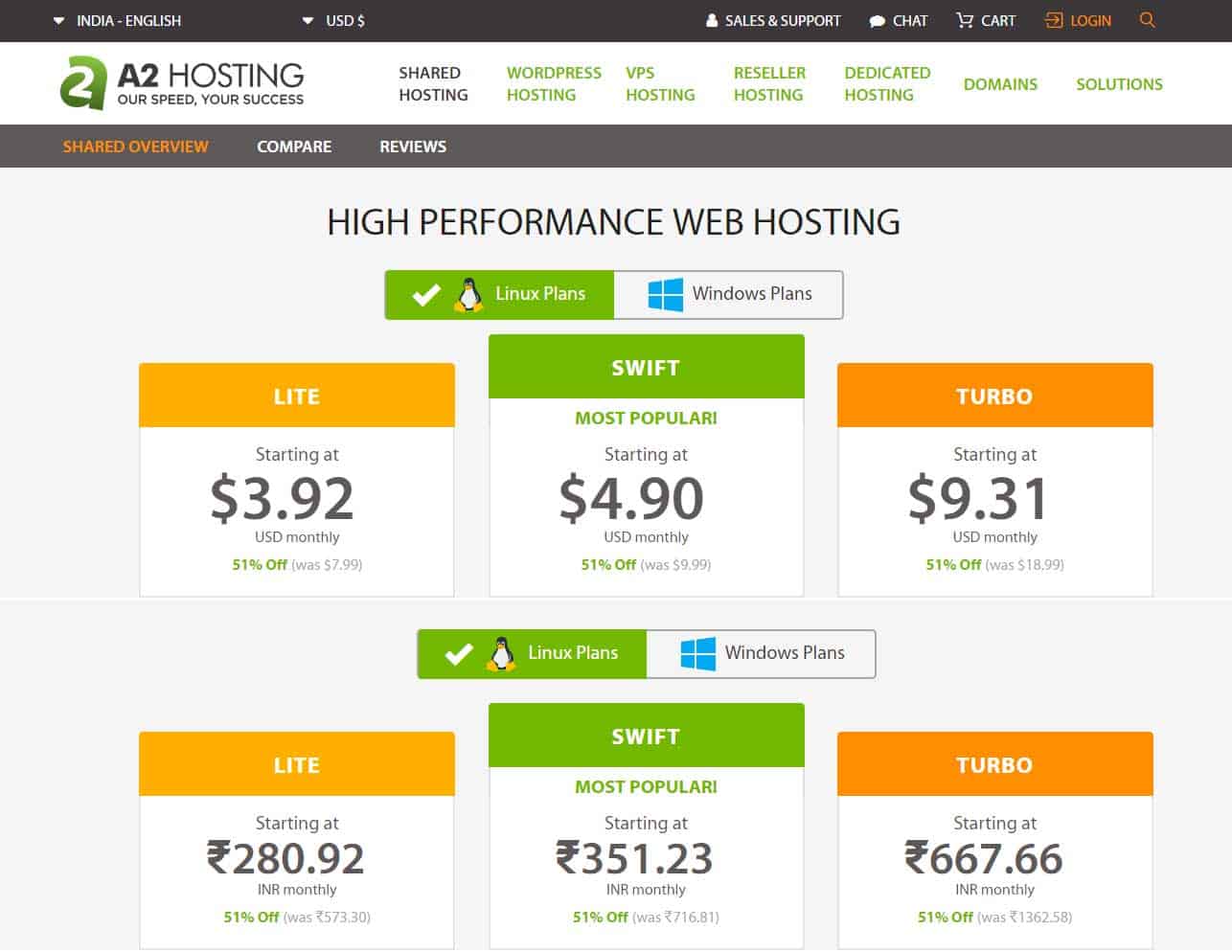 Lite plan: This plan starts at $3.92 per month. It supports 1 domain name, 5 subdomains, 5 databases, and 25 email accounts.
Swift plan: This plan starts at $4.90 per month. It supports unlimited domain names, unlimited databases, and unlimited email accounts.
Turbo plan: This plan starts at $9.31 per month. It supports unlimited domain names, databases, and email accounts. As the name suggests, this plan has turbo features (20X Speed), More Resources Per User, Fewer Users Per Server, Enhanced Performance. It also comes with HTTP/2 support for improved website speed.
How To Sign-Up With A2 Hosting
After reading the A2 Hosting review and going through the pricing, if you want to sign up with A2 Hosting. You can follow the steps given below.
Visit A2 Hosting, See if you can still get a 51% discount (use this link).
Next: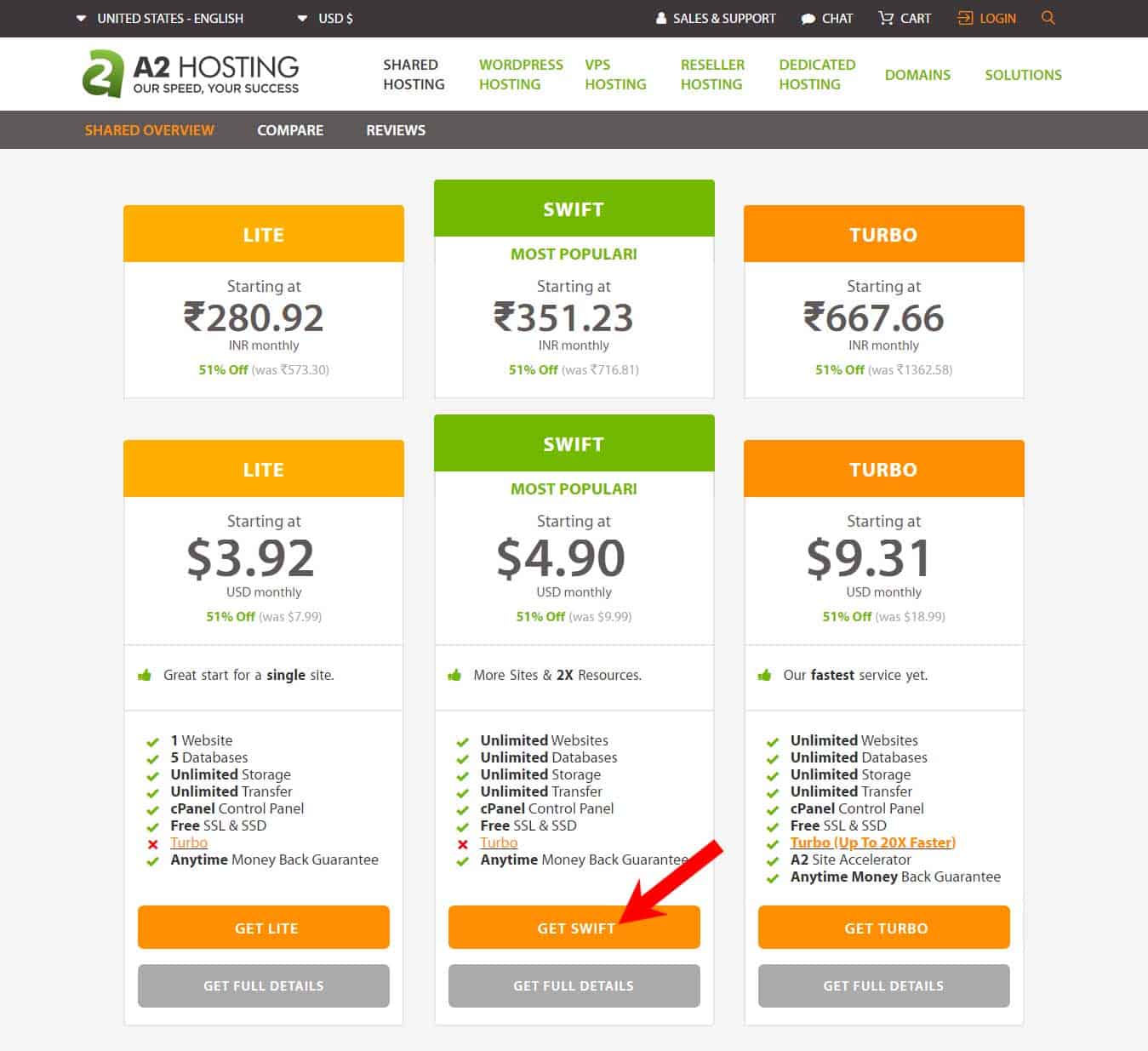 I recommend the SWIFT plan (the middle one), where you can host unlimited websites and you get 2X resources as well.
In the next step, click on "I will use my existing domain and update my nameservers " and enter your domain name and click next.
In the check out page, you can choose the billing cycle (for maximum discount benefits go for 36 months plan) and also you can choose the server location (choose the one near to you and your customer). You can leave all other offerings unchecked.
Finally, review your order summary and (continue) proceed to checkout.
Do I Recommend A2 Hosting?
Yes (Undoubtedly). A2 Hosting delivers where it matters the most: top-notch performance, insane speed, excellent security, and unmatched customer support.
Other popular web hosts might have big, flashy advertising campaigns. Or the entire blogosphere singing their praises. A2 Hosting shines in all aspects and performance parameters. In my A2 Hosting review, I give them a big thumbs up.
Final Verdict: If you need a fast and reliable web host for almost any type of website, give A2 Hosting a try. You shouldn't be disappointed.