How To Choose The Perfect Niche For Your Blog
So you have decided to start a blog, but you are not sure which niche you have to go with. Let me tell you it's common to everyone, in the beginning even I was confused as to which niche I should select for blogging. Here in this post, I will help you "Choose The Perfect Niche For Your Blog" so that you can avoid the mistakes that most of the bloggers do in the beginning.
This is basically the first step in blogging, where you need to choose the perfect niche for your blog. This is the building block for your blogging career so you can't take a risk of making a mistake in the very first step. Someone very correctly said that "well begun is half done". With this ultimate guide to choosing the perfect niche for your blog, I will help you choose a niche for your blog.
Why To Choose The Perfect Niche For Your Blog?
Do you know the secret that makes a blog successful and generates a huge income?
Great Content? Yes
Website Traffic? Yes
SEO? Email List? Social Media? Blah Blah Blah …? Yes (I don't deny)
But the above all, What makes a blog actually successful is picking the right topic for your blog. This is the first and important step to make your blog successful. And this is what most of the successful bloggers do, They choose a perfect topic for their blog, create engaging content (focusing the chosen blog topic/niche) and market them well.
So if you are also confused and struggling to choose a perfect niche for your blog, this detailed guide is for you. Here in this post, you will find some incredible tips and techniques to choose a profitable niche for your blog.
How To Choose The Perfect Niche For Your Blog?
The #1 mistake a newbie blogger (and sometimes even the experienced blogger) do is by choosing the wrong niche for their blog. I consider this, as the number one reason for a blog failure. Below are the steps you should follow to choose the perfect niche for your blog so that your blog doesn't fail.
#1 Planning
Planning is the first phase of everything we do in life. If you fail to plan, you actually plan to fail. This applies to blogging as well. Without a proper plan, you cannot make your blog successful. Thus it is really important to have a plan in writing before you actually start your blog.
Now grab a piece of paper and write down:
Your Skills:
Write down your major skills and the experiences you have. Say for example if you were working for years as an Interior Designer, You know you are good into that. You have tons of information about interior designing.
Or say if you are good at cooking amazing foods, your family members or other people appreciate your recipes. Then cooking could be a topic for your blog as you have lots of recipes and information on cooking.
Spend some time and examine your skills and experiences carefully as this is really going to help you choose the perfect niche for your blog. Ultimately you can not write about something you don't have any experiences or knowledge.
Your Passion:
Now note down the things you enjoy doing the most. It could be anything, you just need to spend some time with yourself and think about the things you do in your life. Note down all the activities or events you have participated.
May you love playing guitar or decorating your house. In this case "Playing Guitar" or "Interior Designing" will be your passion and hobbies. The more you love a topic the more you can write about it. Ultimately blogging is not a one day game, you should have a passion which keeps you going for years and years.
Challenges:
There might be a few things around you which you find very challenging. Think about yourself, think about your family members, think about your friends. What frustration you have in your life (personal or professional)? What frustration you often see in the people around you?
Ask yourself, Can you solve these problems by writing some content on your blog?
Let me give you a real-life example, One of my friend had this recurring problem as whenever any of his friend or family member was buying a mobile phone, they were coming to him for the suggestions asking which model to buy, what are the things we should check when we buy a mobile phone, processor, RAM, camera blah blah blah.
So he started a tech blog where he started writing such stuff to help people. Now, if anyone comes to him for the help, he just tells them his blog's link.
Pick up your top 4 to 5 niches:
I am sure by now you have got many topics/niche for your blog. Now at this stage, you need to shortlist these niche considering all the points above. Just mix all the topics you have chosen and on the basis of all of the factors above (Your Skills, Your Passion, Challenges) order the topics where you are best in and pick up your top 4 to 5 niche.
For Example – You have worked for many years as a "Fitness Trainer" and your passion is the same. You spend more time in the gym, you love the workout, you maintain a good diet. Many of your friends and family members come to you for the suggestions "How to lose weight?" or "How to gain weight?" or "How to be fit in day-to-day life?"
Ohh this niche is for you only! But don't be in a hurry, pick up your top 4 to 5 niche. you need to validate the selected niche on other parameters too. Let's go to the 2nd Step.
#2 Profitability
Will you choose the niche just on the basis of your skills or passion? NO
Ultimately you want to create a business around your blog and earn money. You have got a few topic ideas as per your skills, passion, problems you see around. That's fine, But finally, You need to find out if you can make money in that niche.
I have written a separate article "How To Make Money From Your Blog". It worth checking that article now, Find out what are the options you have to make money from that niche.
Try to find the answer to the following questions:
1. Is there affiliate programs available for that niche?
2. How easy is to attract advertisers for that niche blog?
3. Are other bloggers in the same niche making money?
4. What are the options you have to monetize that niche?
5. Is the competition level in that niche is very high or very low?
If you get the answers to above questions in favor of your selected niche, then that niche will be profitable and worth spending time and money in that niche or else if you don't see many options to earn money from that niche, just drop that from your list.
Important Points Here To Choose The Perfect Niche For Your Blog
By now I am sure you have figured out 2 to 3 niche, where you have skills, knowledge, passion and these are profitable as well, Now you need to validate these selected (2 to 3) niche on other parameters as well. Before going to Step 3, Below are some important points to be noted.
#1. Don't just pick a niche, you have passion and interest in but there is no scope to earn money from that niche. Ultimately you are making a business and no business can survive for a long run if it can not generate enough money.
#2. Don't just pick a niche, where you see a lot of money but you do not have enough knowledge and skill in that niche. Without knowledge and skill, you can not have enough to write about that niche. And finally, you won't be able to do justice to that niche.
#3. Don't just pick a niche, Where you do not have passion, Our passion keeps the things going. Believe me, if you do not have a passion for the niche you have selected, very soon it will become a boring stuff. Blogging is something you need to write for years and this is only possible if you are passionate about the niche.
Now, Let's go to Step 3.
#3 Research & Analysis
Now as you have figured out 2 to 3 niche for blogging. You need to do some research and analysis to choose the perfect niche for your blog. Here comes the technical part of choosing the right niche for your blog. Don't worry it's easy, and at the end, you will be able to choose one perfect niche for your blog.
Keyword Research
There are many free and premium tools available for keyword research. As you are just stepping into blogging, I won't recommend you to go with a premium one. You can simply use Google Ads Keyword Planner, It's a completely free tool from Google, you just need to use your Gmail ID to log-in to your Google Ads Account.
Once you are at your Keyword Planner Dashboard – Click on "Search for new keywords using a phrase, website or category" – Enter your primary keyword – Choose your target region – Hit the "Get Ideas" Button
In the next window, it will give you the monthly search volumes for your keyword. Also, it will give you an idea of related keywords. A monthly search volume of 10K+ is considered to be a good keyword.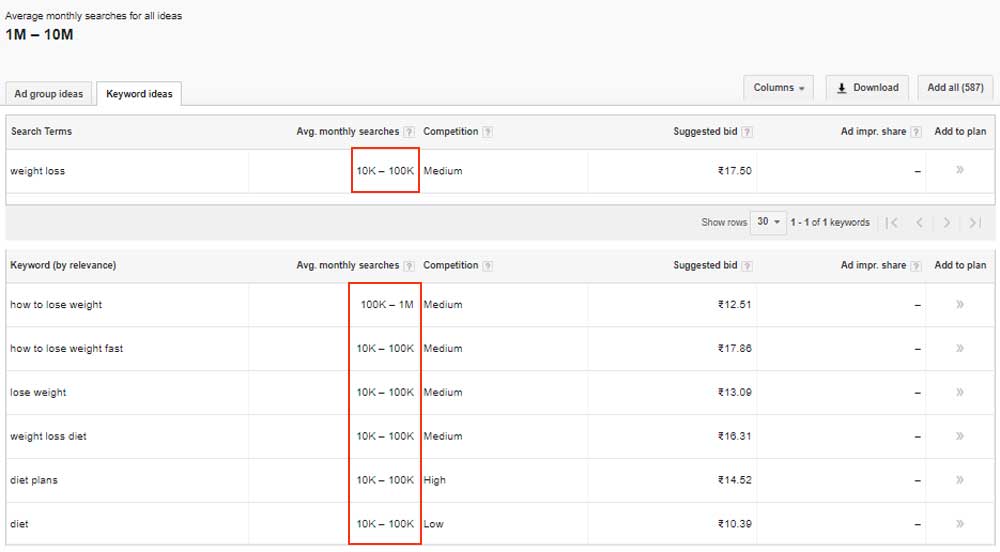 More Tools For Niche Research
There are a few more tools that can help you in choosing a perfect niche for your blog. It's really good to use these tools in combination to reach a final conclusion about your niche.
SEMrush: (Recommended) This is the most powerful tool available today. Apart from niche research, you can use it a lot to come up with blog post ideas too. It allows you to learn more about your competitors, find out what they're ranking for and which keywords are being searched for. Most of the Pro Bloggers use this tool (Including Me).
Google Keyword Planner: (Already Discussed Above) It's a completely free tool. This is part of Google Ads which allows you to do keyword research. You can use this tool to find keyword monthly search volume, competition level for the keyword, expected bid (CPC – If you run an ad targeting that keyword, you will incur that CPC).
Google Trends: It gives you an idea of tending niche. With this tool, you can easily check if your niche is on the decline, or increasing in popularity. It's important to check the historic trends for particular keywords, and you can check that with Google Trends for free.
Competition Analysis
The competition level is also a very important indication factor, If you see a very low or no competition for your niche, It simply means there is no business scope in that niche. Or if you see a very high competition level then you need to work hard, create better content in order to outperform your competition.
It's our general tendency that we do lots of research on our customers and we forget our competitors. Believe me, competitor analysis can help you lot not only picking the right niche for your blog but also in marketing your blog. You can get tons of information from your competitors, What are the main keywords driving traffic to their site, what sort of marketing tools they use and many more.
Below are some of the tools you can use for competitor analysis.
Buzzsumo: It's a great tool for analyzing the social presence of your competitor, Just enter your competitor's domain name and the tool instantly analyzes your competitor's blog content. It displays the number of social shares for each of that website's posts. The posts with the highest number of social shares are at the top of the list.
SEMrush: It's an excellent tool to get the idea of your competitor's blog traffic. Enter your competitor's' names and get a list of the top 10 keywords driving traffic to them. You can also see the average monthly volume of searches for a given keyword combination. It's a complete tool for all SEO need.
Moz: Moz has got its own proprietary ranking algorithm, which indicates the Domain Authority and Page Authority. Every domain and web pages are ranked between 0 to 100. The higher the domain authority a site has, the more influential that website is online. Same goes for the individual website pages, higher the page authority, more influential that page is online.
Follow Related Blogs & Forums
Related blogs and forums not only help you choose the perfect niche for your blog, but it also helps you in creating great content for your own blog. You can analyze the related blogs in your niche so that you can understand what other bloggers are missed out, and then you can create better content to fill the gap.
Also, forums are a great source of information. You can easily find a forum related to your niche (Just Search in Google "Your Niche + Forum"). It's good to join forums that are related to your niche, you can ask questions and get ideas on creating content for your blog.
Check Affiliate Marketing Sites
Affiliate marketing websites are also helpful in finalizing a perfect niche for your blog. Analyze affiliate marketing sites, it will actually help you in two ways.
If you get more affiliate products for your niche, then it simply means there is a market for that niche. It's a good indication that you are choosing the right niche for your blog.
Second, Analyzing the affiliate website gives you an idea of how you can actually monetize your blog in the future with those available affiliate products in your niche.
Final Conclusion On Choosing A Perfect Niche For Your Blog
If you're new to blogging, I can understand your situation (I was at the same place when I started). Choosing the right niche for your blog is very important. I am sure if you follow the steps above, you will end up finalizing the right niche for your blog. Remember it may take some time, But it worth spending the time to choose the perfect niche for your blog.
Picking a wrong niche will take you nowhere and you could just end up wasting an incredible amount of your time, and also a lot of money.
Blogging requires lots of dedication, A simple mantra is, think about how passionate you are, what your skills and strengths are and which niches are going to be profitable. I am sure if you follow this, you can cut out a lot of the disappointment and put yourself on the right track from the beginning.
Do you have any questions related to picking the right niche for blogging? Do post in the comment section below, I will try my best to answer your questions.